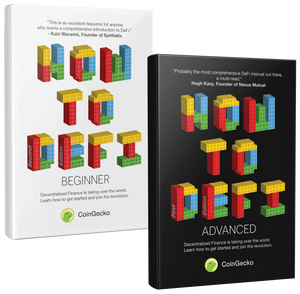 With Bundle package, you will get both "How to DeFi: Beginner" and "How to DeFi: Advanced" .
"How To DeFi: Beginner" Book by CoinGecko is an updated version of How To DeFi is a must-read book for anyone looking to learn DeFi. It is packed with simple explanations and step-by-step guides to help you understand and get started in this fast-developing ecosystem.
"How To DeFi: Advanced" Book by CoinGecko features the market outlook within 10 different DeFi categories. We deep dive the key players within the category to help you understand the dynamic within the ecosystem. Use this book to gain insight into the novel financial innovations enabled by DeFi. Join us in this exciting adventure of redefining finance.
Note: This is an eBook. Purchasers will receive PDF, ePub, and Mobi versions of this book for download.